Backblaze, an online backup service provider, has revealed the results of their continuous hard drive reliability report which features data collected over 34,881 drives from manufacturers such as Seagate, Western Digital and Hitachi. We originally covered their first report in February of 2014, where the company revealed that certain Seagate drives had a significantly higher failure rate than other competitors. While many users have had excellent luck with Seagate products, it's hard to argue with the number of data points that a fleet of that size can give you.
Fast forward to September 2014, and a new report has emerged from Backblaze, once again pitting the power trio of hard drive makers in a battle royale in their data centers. Here's the latest chart with the numbers…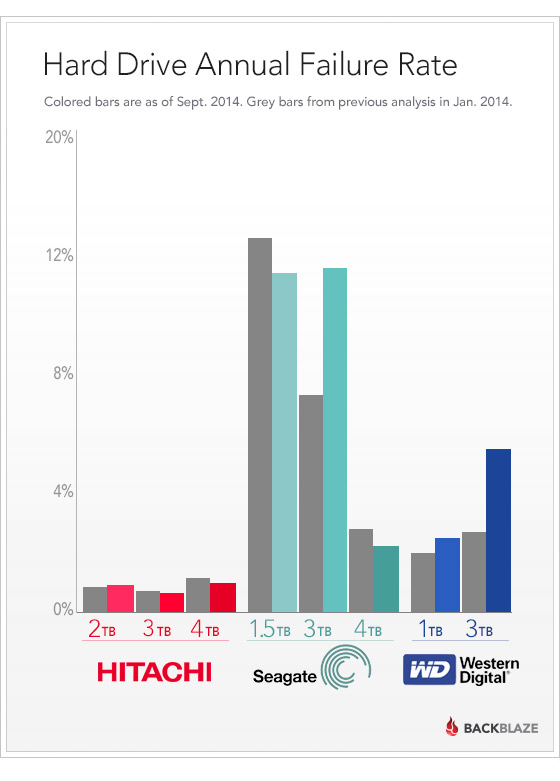 The big winner this time around was Hitachi, with the least amount of failures over 2, 3 and 4TB drives, versus other competitors. Although smaller 2TB units seem to be moving up in failure rates, but only slightly. The chart shows an impressive lead over Western Digital and Seagate, which is great news for the company that was once synonymous with failed hard drives, and even earned the moniker of "Deathstar", for their "Deskstar" product lines. Hitachi can definitely stand proud today as the drives that you will want to buy to backup and protect your data.
Unfortunately, Seagate comes out on the bottom again, with the highest failure rates facing units that use their 1.5TB and 3TB technologies. Interestingly, their 4TB drives are by far the most reliable, leading us to believe that a manufacturing process change may have taken place. Perhaps the change talked about in our interview with them at CES 2012, when the company announced that they would be moving into a denser platter process. The work seems to be paying off for them in those bigger drives.
Western Digital, however, falls to second place behind Hitachi this time, and unlike Seagate, they take a hit in the higher density platters starting at 3TB, over the results reported earlier this year. As one of our go-to hard drives in the lab, we hope that they don't slip any further in the higher density ranges. We're running out of space all the time and we'll definitely want bigger drives as opposed to smaller drives.
Source: Backblaze Blog